family migration project​​
'Ihiuka: ​Sacred Uplands, a tribute to my grandparents​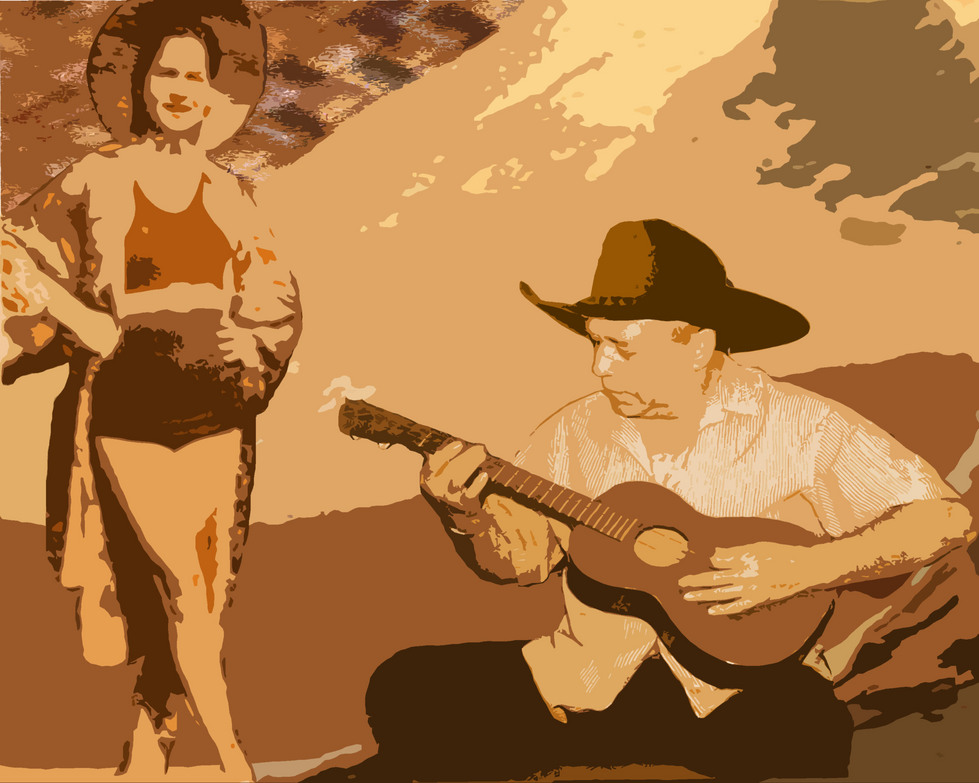 Music: Makana. (2002) "Fado" A traditional Portuguese lament of fate.​
​From the album, Koi Au.

​​​

My Family Story


​
More than anything else, my creative and cultural identities and practices have been shaped by globalization due to the fact that my heritage is multi-racial. This diversity has connected me to different places in the world and these different cultural connections are a deep well of inspiration, offering me narratives from my memories and through the stories of my ancestors.

In my heritage, the important places of origin were the European countries of Poland and Portugal, and the Hawaiian islands. My mother is Hawaiian-Portuguese, and my father is Polish. If I were to start at the beginning, that beginning has three entry points with three entirely different perspectives. But the central place of my story, the intersection of all my relatives, is here in the Hawaiian Islands.

I would begin with my Polynesian forefathers that sailed from the South Pacific in the ancient days that predate Missionaries, literacy, and sugar plantations. When the native language of 'Olelo Hawai'i was spoken by all, when cultural legacy was handed down from generation to generation in the oral tradition. The ancestral land of my Hawaiian family is a place on the island of Hawai'i called Kohala. The family names are Uwaia, Kaleleoili, Keawemauhili, Ka'ana'ana, and Kai'oipahia. Life was simple in the days before, ordered by a moon calendar, religious belief, family, food, and traditional values.

The first part of my cultural hybridization has to do with my great-great grandparents who came to Hawai'i from Portugal back in the mid-1800's. From the Old Country the family names are Gouveia, DaCosta, Perreira, and Amorino and they came by way of large ships across the Atlantic Ocean and the Pacific... a very long journey, indeed. They came to work and settle down as immigrants in a new land. The men were hard working ranchers, called paniolos. They spoke Portuguese and some of them learned to speak Hawaiian, which was the language of the land at that time (and legally it still is, as a matter of fact).

My grandfather, was born to Hawaiian roots in Kapa'au, Kohala on the northern tip of Hawai'i Island, also known as the Big Island. Eventually, he met the Portuguese girl who is my grandmother. She was of the first generation born in Hawai'i, and she grew up in Holualoa, Kona, on Hawai'i Island. The two fell in love, they married, and gave birth to three children, including my mother. My mother grew up on the Big Island of Hawai'i, at Holualoa and at Ka'u, South Point. She was raised in her early years by my great-grandparents who had emigrated all the way from Lisbon, Portugal and the Portuguese islands of Azores and Madeira. When she was a teenager, my mother went with her parents to the sugar plantations at Pauhau and Pauilo. My mother was 18 when she met my father and got married.

My parents met when my father was a Marine stationed on the island of O'ahu. My father is descended from Polish immigrants who landed at Ellis Island in New York in the early 1900's. His service in the military carried him to Hawai'i where he met my mother. My parents were married and had four children together. Each child was born in a different state as we moved around the Continental United States while my dad served his military duty. I was born in North Carolina.

At this time in my life, I find myself particularly inclined to the roots of my mother, especially since I have been living in Hawai'i and family places and stories are more accessible to me. My Hawaiian ancestry has become prominent both culturally and creatively in my life, as I have taken heed of the rich, cultural legacy and artistic expression originating from Polynesian history and traditional arts. My research and understanding has influenced my thinking and my creative work and led to developing my perspectives about Hawai'i, family ties, cultural importance, and belonging to the community...all strongly valued in Hawaiian culture. Since the time of the Missionaries in 1821, the later overthrow of the Hawaiian Monarchy, and annexation by the United States, Hawaiians were discouraged from practicing culture, arts, language, and traditional ways of living. The racism toward Hawaiians caused my mother and many others like her to adopt Western ways, and forsake their cultural identity. I am part of a generation striving to revive, protect, and preserve Hawaiian culture and values and I see this as a responsibility. There are always more stories to tell, but these are the basics in a nutshell.
​
ABOUT THE COMPOSITION...

​​​This composition is a digitalized photo-montage created from pieces of five photographs. The result combines to tell a story of life in Hawai'i and the blending of my cultural heritage through a process of hybridization. This depiction merges various cultural elements to represent life in my family, and

Hawai'i nei

.

​​The figure in the foreground is my grandfather, of Hawaiian descent. He sits playing his ukulele, which is an instrument that was originally imported from Portugal and has become a popular symbol of Hawai'i. He appears to be serenading my grandmother, a very pretty Portuguese girl dressed in bathing attire (circa 1937).

I added a hat to my grandfather, which I borrowed from one of my Portuguese uncles​​. This element seemed to flavor the simple scene...a little artistic license here as some might say he'd prefer a more stylish choice.

​​The background is composed from an abstractly transformed conch shell, a cultural object to be sure, but it is here because of personal childhood memories. The conch is enlarged here and gives the impression of a mountain backdrop. This goes along with the story I am telling because on the island of Hawai'i, there are three major volcanic mountains in the landscape.

Finally, another culturally significant Hawaiian symbol appears, which is the hand-woven

lauhala

mat that is in the upper left-hand corner. It represents the inter-woven family history, culture, and the closely layered family relationships that characterize the multi-cultural families of Hawai'i.



​
​"...On the low road and the high road,
Always with hat in hand,
I loved only what used to be
Now weighing heavy on my soul​..."​​

​​
If you want to see more on this topic
​check out my art curriculum website at: ​
​
migration art