This collection of websites speaks to issues about reclaiming cultural heritage from the world view of people that experienced colonization, imperialism, or occupation. The voices of Polynesian, African, and Asian people respond to urbanization and migration, ecology, and cultural identity. These are historical archives, contemporary visual artists, and cultural organizations that function as beacons to inform the study of hybridized culture for the purpose of art education and art making from the past, in the present, and for the future.
POLYNESIAN VOYAGING SOCIETY
​Polynesian Voyaging Society. Retrieved 4/12/2012 from http://pvs.kcc.hawaii.edu/

This website is a cultural resource for the restoration of traditional ocean voyaging. There is news of current voyages, archives of past voyages, and valuable cultural knowledge about navigation. The many photographs and personal documentation are insightful and inspiring
THIRD WORLD NETWORK​​​
​TWN Third World Network. Retrieved 4/12/2012 from http://www.twnside.org.sg/

This is a journalistic website that ​​originates from Penang, Malaysia. It covers many issues of current interest around the world but focuses on empowering nations south of the Equator. Economics, ecology, health, and human rights are some of the topics covered.
PACIFIC STUDIES WWW VIRTUAL LIBRARY
​The World-Wide Web Virtual Library. Retrieved 4/12/2012 from http://coombs.anu.edu.au/WWWVL-PacificStudies.html

​​This site is provided by the Australian National University. It includes a range of topics organized by country and region in the Pacific. It is organized as a virtual library with links to maps and cultural explanations and viewpoints about post-independence and colonialism.
TEWEIARIKI TEAERO
​​​​​​​​​Teaero, T. (2002). The Role of Indigenous Art, Culture and Knowledge in the Art Education Curricula at the Primary School Level.

Regional Conference on Arts Education in the Pacific

,

United Nations Scientific and Cultural Organization,

November 2002. Retrieved 4/12/2012 from:
​ http://portal.unesco.org/culture/en/files/9199/10542967713paper_Teweiariki_Teaero.pdf/paper%2BTeweiariki%2BTeaero.pdf

A comprehensive article delivered at UNESCO's 2002 Regional Conference held in Nadi, Fiji. The article reviews Oceanic culture, art, and education. There are recommendations given to address the importance of art education for primary school children.​
SOPOLEMALAMA FILIPE TOHI
​Tohi, Sopolemalama Filipe. Artist Website. Retrieved 4/12/2012 from http://www.lalava.net/nav.html

Originally from Tonga, this artist bases his work on the ancient Pacific Island art form of

lalava​

​

(lashing) that was used for joining and binding materials together. He transforms the technology of the past into a modern representation of identity and experience.
NATURE MORTE
​​​​​Nature Morte. Retrieved 4/12/2012 from http://www.naturemorte.com/

An online art gallery that predominantly features artists from the Indian Sub-continent. There are three physical gallery locations, two in India and one in Berlin, Germany. Gallery Nature Morte in New Delhi was one of the first gallery spaces to be devoted to more experimental Indian contemporary art. It has helped to promote challenging and experimental forms of art; championing conceptual, photographic, and installation genres.
PACIFIC AMERICAN FOUNDATION
The Pacific American Foundation. Retrieved 4/12/2012 from http://www.thepaf.org/

This organization was developed ​​to address the need for improvement in the lives of Pacific Americans in Hawai'i and abroad. The site provides a multitude of programs for cultural education, research and development, leadership and training, and community partnership.
URBAN VITI
​​Urban Viti. Retrieved 4/12/2012 from http://urbanviti.wordpress.com/
​
T​his eclectic website is a blog dedicated to contemporary Pacific art, fashion, home and product design. It features interviews, DIY projects, information about exhibitions, performances and events, and design finds from rugs to jewellery.
Patterns of Identity: Textiles in Aotearoa. Retrieved 4/12/2012 from http://www.textiles.org.nz/index.html

An archive of New Zealand textile design with a focus on printed textiles. This archive has been developed as a teaching resource by staff at the School of Art and Design at Auckland University of Technology. It features an extensive image collection and provides a showcase and archive of New Zealand textile artists and designers. ​​
Tuferry, Michel. Artist Website. Retrieved 4/12/2012 from http://www.micheltuffery.co.nz/

A New Zealand based artist of Samoan, Rarotongan and Tahitian heritage, Michel Tuffery has a reputation as one of the seminal role players for visibility of Contemporary Pacific Island art locally and beyond the wider Pacific.​​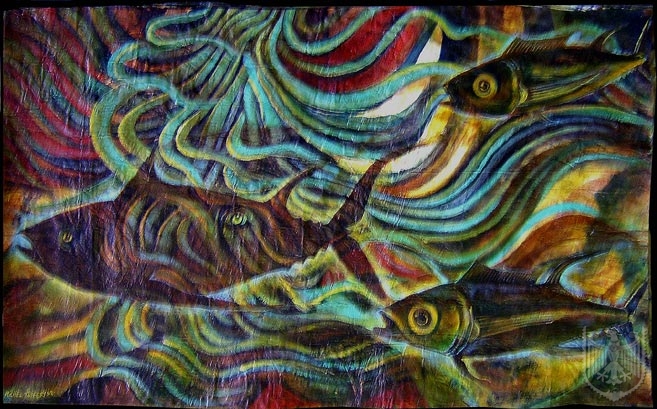 Michel Tuffery,

Tangaroa at Te Raekiahau Point Lua

, 2008
​Acrylic on Tapa Cloth

​​Te Raekiahau translates to 'headland that eats the wind​'
​
​This translation is what Tuffery was responding to in this series of paintings.
​There are many interpretations of Tangaroa throughout the Pacific yet all consistently acknowledge his values which were of an environmental nature and conceptually representational of the provisions of the ocean.

​​e.g. in the Cook Islands it is known that a figurine of 'Tangaroa' is lashed to the prow of fishing canoes for a multitude of reasons which include obtaining Tangaroa's protection and favour, seeking his blessing for a bountiful catch and offering respect for his environment – the oceans.

​​Tangaroa at Te Raekiahau Point Lua is included in Tuffery's "Tangaroa's Garden" exhibition.
Tanahy, Dalani. Artist Website. Retrieved 4/12/2012 from http://www.kapahawaii.com/

Dalani is a practitioner in the Hawaiian traditional​​ art form of

kapa.

Her work perpetuates and preserves this ancient art form. She uses tools made from wood and bamboo, and natural dyes from local vegetation. Kapa is produced by pounding the fibers of the paper mulberry tree and joining pieces together to form sheets.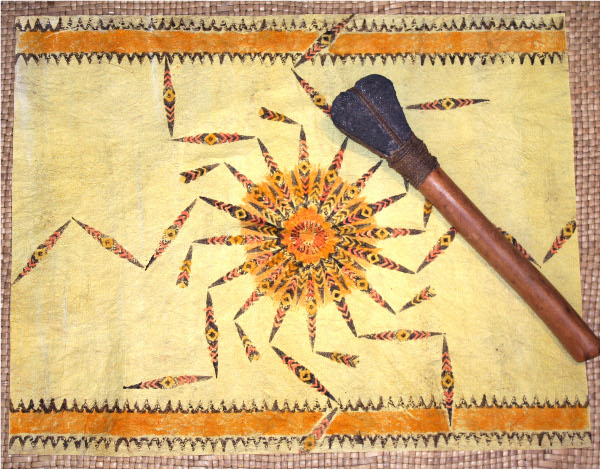 Dalani Tanahy.

Maui


kapa and stone club "newa"
​Bamboo Stamp Natural Dye ​on Kapa Cloth

This contemporary piece refers to the ​​demi-god Maui and the story of how he slowed down the sun so that the day would be longer. She uses an ancient myth as the subject of her work here to depict the sun crippled after its battle with Maui. The traditional designs are reworked in a contemporary motif to create a hybridization of this ancient art form.
Mwangi, E. (2006). Painted Metaphors: The Use of Visual Arts in Contemporary African Novels. GEFAME, Journal of African Studies, Vol.3, no. 1. Retrieved 4/12/2012 from http://quod.lib.umich.edu/g/gefame/4761563.0003.103?rgn=main;view=fulltext

​​This is a scholarly article which discusses the relationship between the visual and literary arts and how this relationship is developed in African arts metaphorically and thematically through narratives of colonialism.